Re: IPI delay: Extreme Winter Weather caused Rail Ramp Closure and disrupted Highway Service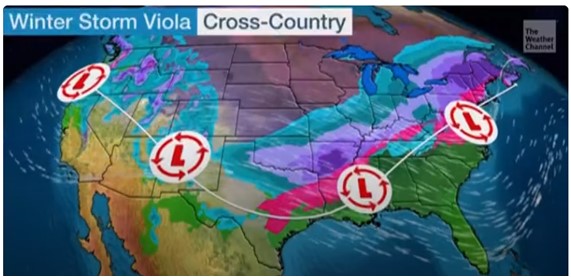 UP

Extreme winter weather continues to impact operations through much of the Union Pacific network, including the Pacific Northwest, the Midwest and the Southern Plains.
To keep our terminals fluid, all ingates at Union Pacific terminals will close effective tomorrow, February 16, 2021 at 08:00 AM in the terminal's respective time zone.
UP anticipates the closures to last approximately 72 hours. Exceptions to the ingate closures include:
All International shipments that currently originate or terminate at LA/Long Beach ondock terminals only will continue to be accepted, and will operate on extra schedules as resources allow (ingates to ICTF will also be closed)
Westbound domestic interline shipments sponsored by NS, CSX, CPRS or CN will be accepted at all interchange points
All shipments to and from Seattle and Tacoma will be closed for approximately 48 hours; however, international shipments to and from Tacoma on-dock will continue to be accepted
Please note that all terminals will continue to be open for outgates, and UP urges customers to assist the network recovery process by continuing to pull notified units.
BNSF

BNSF is confronting a broad range of major service challenges across its network due to ongoing extreme winter operating conditions.
An unprecedented winter storm brought record cold temperatures and significant snow deep into Texas and parts of the Gulf Coast this morning. Numerous power outages have been reported as well as road closures, which have affected our ability to move train crews and other personnel. As a result, many trains are currently holding until affected infrastructure has been assessed and operations can safely resume. Customers with shipments designated to move through the region should expect extended delays.
In the North Region, temperatures have remained well below zero for more than a week and have significantly impacted BNSF's ability to maintain normal traffic flows. Train lengths have been restricted and additional locomotives have been required to generate proper air flow for trains' braking systems. Other actions have been taken to maintain service as much as possible. BNSF continues to experience reduced productivity at terminals in the region due to multiple switch and air flow issues across rail yards.
As this winter storm moves off to the Northeast today, another winter storm is currently moving through the Pacific Northwest and then into the southern Plains. An additional round of significant snow and ice is likely across Oklahoma and north Texas during the middle of the week, while temperatures slowly recover to near-normal levels across much of the network by the upcoming weekend.
BNSF has activated 24-hour command centers in multiple operating divisions to manage recovery efforts and is responding to track issues around the clock. It has also called up available resources to help restore normal operations as quickly as possible.
CSX

The Memphis, TN terminal closed at 1400 local time today due to extreme weather associated with Winter Storm Uri. Conditions in Memphis are being closely monitored to keep other CSXIT-served facilities open, fluid and operational.
CSX is advising customers to expect delays on shipments moving through the Ohio Valley and Midwest, as a winter storm tracks across a large portion of the central United States toward the Northeast. The CSX team has resources in position and to resolve any delays that may occur as quickly as possible.
Intermodal terminals are open and traffic is moving with only minor slowdowns as a safety precaution at this time. TRANSFLO terminals are idle for the President's Day holiday and are expected to resume operations on schedule tomorrow (Tuesday).
NS

Due to terminal congestion resulting from winter weather events, effective at 14:00 local time, Monday February 15th, NS will close ingates at the terminals listed below to private domestic Empty trailers and containers billed to Chicago 63rd St.
Baltimore / Buffalo / Croxton / Pittsburgh / Rutherford / Toledo
The ingate closures outlined above will be in effect until further notice. Effective immediately, the ingates at Bethlehem, PA and Morrisville, PA terminals will open to traffic destined to UP Lathrop. Please note that traffic could be held at origin for a few days until sufficient density is attained to facilitate a steelwheel interchange in Chicago to UP.
Please do not hesitate to contact us should there be any questions or concerns.